There are several items generated in an average round that unnecessarily reference clowns or the clown. These are a relic of bygone days when we had clowns and it was 'funny' to talk about them being on the station and murdering them.
I created a PR involving removing them, but it's been largely filled up with le reddit brigade nonsense from people hailing from lowrp servers that certain of OUR players called in to 'support' them. I was asked to make a forum thread.
Here's the important info, though.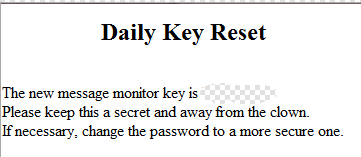 These three items had their text involving clowns changed to 'unauthorized personnel', 'carefully', and deleting the last sentence, respectfully.
I'm aware that there is an ancient culture involving clowns and SS13, but we don't use them anymore. There's no redeeming value in keeping silly or nonsensical messages in the game simply for the sake of them being there.
They're not funny anymore. They're not in any way necessary.
It's time to move on, and within a week of this being implemented, most people won't even remember it was there, because the objects that include these are so rarely viewed that people mostly forget they exist unless they're using them.